Reading Time:
4
minutes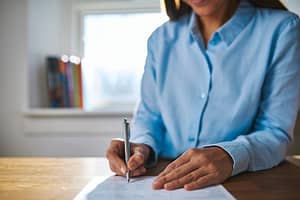 If you're on this page, you've most likely been asked to write an affidavit for a friend or family member in support of their green card application.
What is an Affidavit?
An affidavit is a written statement made under oath (sworn-to as being accurate) and notarized. It's like testifying in a trial, but it's on paper.
In the green card application context, an affidavit is an item of evidence used to help prove that your friend or family member is in a bona fide (genuine) relationship.
Why is an Affidavit Important?
In many cases, individuals or couples are interviewed by immigration officials as part of the application process, but the interview usually comes last. Before an immigration officer meets with the applicant(s), the officer thoroughly reviews the application file. This is our opportunity to show the officer that there is enough evidence to prove the bona fide relationship and to introduce our clients as people rather than just names and data on forms. Providing statements from applicants' friends and family who are familiar with the applicants' personal lives and situations helps us accomplish those goals, and ultimately makes the interview easier for our clients and the officer.
How do I write a Good Affidavit?
In order for an affidavit to be effective, it must include the following initial information about the affiant (the person writing the statement):
Full name
Address
Date of Birth
Nationality
Telephone number
What relationship the affiant has to the subject(s) of the statement (e.g. parent, child, sibling, a friend (for how long, and how you met)
Once you have covered the initial details, the important part of the affidavit begins. In this part, you are asked to describe the applicants' relationship with some level of detail. More details make for stronger affidavits.
Try to discuss some of the following:
How often do you see or speak with the applicant(s)?
Do you visit the applicant(s) home?
When you spend time together, what do you do?

E.g. go out for dinner, have dinner parties, our kids play together, play golf together, do game nights, etc.

How often did/do you observe the applicants together?

We want to show that you have had plenty of opportunities to personally observe the couple together, e.g. "we see each other daily/weekly/etc."

How did/do the applicants interact with each other? Describe what you observe, e.g. "they are very close/loving, they joke with each other a lot, they hold hands, etc."
If you were at their wedding, describe it.

E.g. "it was a small wedding with only 10 of their closest friends and their parents, I remember their first dance was to [song] and it was perfect for them."

Is there something that is special to them, that they like to do/say?

E.g. "every month they plan a special date night and go to a restaurant they love." or "their pet names/nicknames for each other are [name] and [name]."

How do they speak about the other person when you're alone with one of them?

E.g. "when John and I are alone, he talks about Jane all of the time, he tells me about things they do together and how lucky he is to be married to her."
What is the Format of the Affidavit?
Generally, the affidavit can be a simple typed or handwritten statement (as long as it is legible). If you write a simple letter, you should include language at the end like "I swear that this statement is true and accurate to the best of my knowledge."
It is better to provide your affidavit in a format that includes specific language about the oath and the notary. Below is are some helpful templates that you may download and either fill in Adobe and print or print and complete by hand:
When you have completed your affidavit, you should sign the document in front of a Notary Public.
Bring your unsigned statement to a Notary Public. You will be asked to present identification, and then to sign the document. The Notary will also sign and place a Notary seal on the document.
What is a Notary Public and Where Do I Find One?
In the United States, a Notary Public is a public state official commissioned to serve as an impartial witness in performing fraud deterring acts related to signing important documents. A notary is permitted to administer an oath. Documents that are notarized carry significant evidentiary weight and are thus accepted by USCIS in immigration matters.
Notaries are found in every state of the United States. Most often you can find a Notary at a bank or law office. A Google search for "notary near me" should provide sufficient results.
In other parts of the world, an official that can perform these duties may have a different name, or in some cases may not exist at all. If you are unable to notarize a document, you may still provide the statement, but it may carry less importance to an immigration officer.
I'm Done. What's Next?
Once you have a notarized affidavit, you may provide it to the applicant who will then submit it to us.
If you prefer, you mail the statement directly to our Charleston office address found at the bottom of this page.
---